Innovation Grant for PPE Supply Chain
Posted on Oct 01, 2020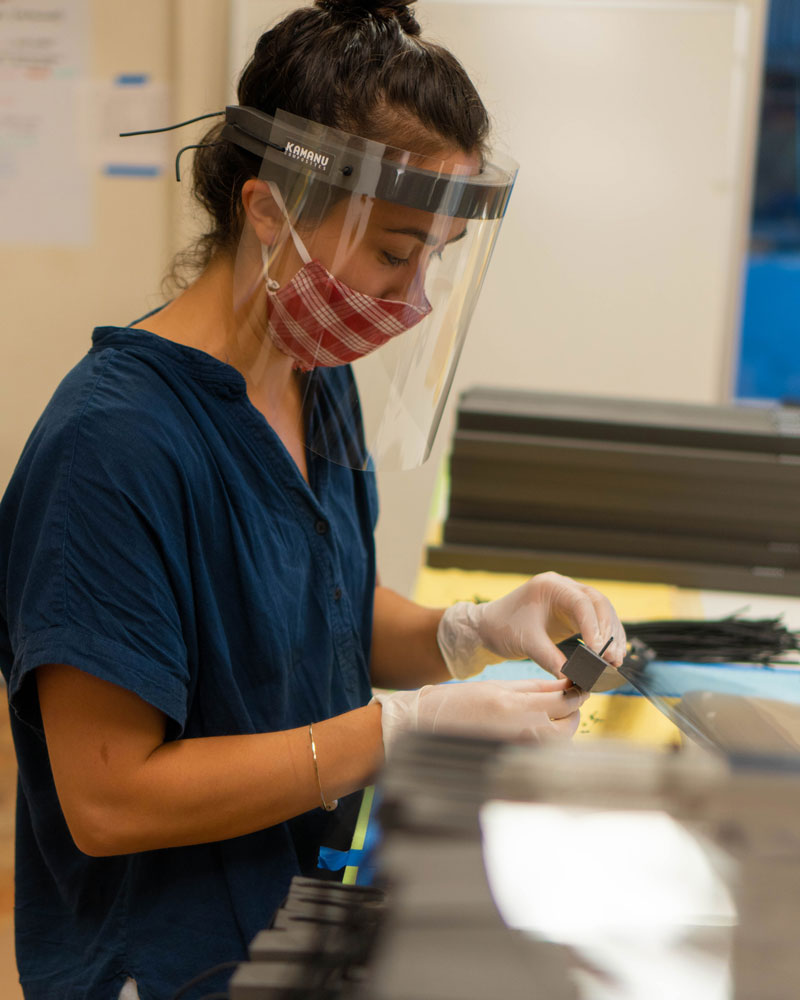 We're proud to announce we've received an Innovation Grant for PPE Supply Chain from HTDC and the State of Hawai'i. The grant is a game-changer for us and will allow us to scale up our face shield production to tens of thousands per day. With the use of the funds, we'll be hiring 30-50 people over the next 6 weeks.
During the initial stay-at-home order in March, we layed off 17 people and completely shut down our canoe building business. We thought it was the end of our business. One of our employees had the bright idea to donate our unused PPE that we use for canoe building to local hospitals. In dropping off a few thousand dollars in tyvek suits, gloves, and respirators, we saw the shortage situation first hand. It spurred us to want to help more, and in a couple of days, we figured out a way to make a face shield using material that we had in the shop. We planned to make a few hundred.
Within a week, we hired our outrigger canoe manufacturing team back, and in two weeks, we had shipped more face shields than we had canoes in 13 years. It both gave us a concrete way to help with the pandemic and also allowed us to keep our people employed.
We now have over 800,000 face shields on order and have been ramping up production as much as possible to meet that demand. But, given our machine, space, and labor constraints, we are currently maxed out at 10,000 weekly face shields. The HTDC grant enables us to pursue several large equipment purchases to produce up to 100,000 face shields per week by the end of October from our Kailua warehouse. Our goal is to produce 900,000 face shields by the end of the year while continuing to produce four or five outrigger canoes per week. Not only will this increase PPE capacity in Hawai'i, but it enables us to help provide needed jobs.
With increased manufacturing capacity and efficiencies, we've reduced our prices significantly to $4 for any quantity and will be giving away ten thousand free shields over the next five months to anyone in Hawai'i that needs them. We're also making replacement screens available for $2 -- allowing the reuse of the foam band and elastic strap. Which is a feature we haven't seen in the world of inexpensive face shields.
We hope that improving public health conditions in 2021 will reduce the demand for face shields. However, the equipment purchases enabled by the grant increase our resilience in future pandemics, as we will quickly be able to transition back to face shields in the unfortunate event that they become necessary again.
We feel fortunate to have received the backing of HTDC and the State of Hawai'i, and will use this momentum to help Hawai'i in the best way we know-how. Designing and manufacturing products in Hawai'i is what we've done since 2007 and will continue to do for the rest of our lives. The HTDC grant increases our community's resilience while encouraging economic diversification and keeping our front line workers more protected. We're thankful to all of our loyal customers who have enabled us to survive as a company for all of these years, and we're thankful to be part of the HTDC program and do our part for Hawai'i.
If you're interested in joining our team through the end of the year at our Kailua facility, please email keizo@kamanucomposites.com with a brief cover-letter and resume. Starting pay is $15 an hour, with higher paying positions available, as well as bonuses for night time work and production incentives. And if your organization is in need of face shields and can't afford to purchase them, please email us at aria@kamanucomposites.com with an overview of what you do and how many you need. We can't guarantee that we'll be able to provide everyone who needs a shield, but we'll do our best!